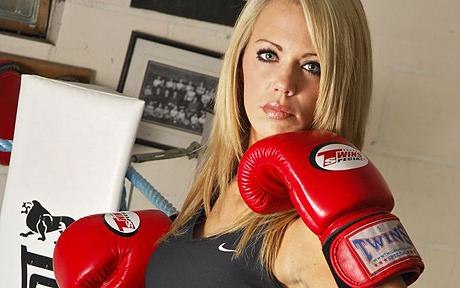 The Amateur Boxing Association of England (ABAE) has banned a would be boxer from competing due to her breast implants.
Former model Sarah Blewden wants to become the first female boxer to represent Great Britain in the Olympics. Women's boxing isn't currently an Olympic sport, but women's boxing groups are hoping it will be included in 2012.
"My surgeon said they make me no more vulnerable than any other woman," Blewdin told The Telegraph. "They are not enormous ones — they are in proportion. They are gel implants and not liquid so they won't burst (BURST)." She added: "Women haven't been allowed to box for that long and this is an obstacle I want to get over so other women like me won't have the same problem."
According to ABAE, "International rules forbid anyone with breast implants continuing to box because of risk of damage to the breast tissue…The natural breast tissue is pushed forward in front of the implant and it is this that is more at risk."
The question now is, why would one wanna do this? Unless breasts are hands and breasts can fight too!!!!